Photoset with 2 notes
Oh my god! BFP!!!
We are finally pregnant again! And the wierd thing is…we concieved on the third month the first time….and this time it's the thrid month after our missed miscarriage. So it appears it takes three months for me to concieve.
Three must be our lucky number.
Hoping this little cellsie sticks!
Fertility Chant
At time of ovulation chant:

"To you, my child, my body is open
To you, my child, my mind is open
To you, my child, my heart is open"
Going on our honeymoon to Russia/Sweden in six weeks and I'm starting to plan my outfits for the trip! I got a few new scarves today as I felt that way I can wear the same jacket and jeans and just change up my look with a scarf! I've built an outfit inspirtation board to see how it all looks.
It will mean that I won't have to pack four different jackets and several outfits- but hopefully I'll syill look stylish. I got a creamy white wraparound scarf, an olive green (which goes so well with the brown jacket), a classic black scarf with tassly bits and a warm gray one that matches my hat. I've already got a pretty teal one that will add a 'pop' of color and that matches some little wollen glaves my mom gave me recently (coz she knows my hands are always so cold!).
Also I plan on taking a hat or two to add to the different outfits, but I really, really, really want to get a russian fur hat over there! As it would look great with my blond hair and my warm wintery clothes.
Kate Middleton makes it look super stylish and classy!
I want to pack as light as I can so that I can buy a lot of clothes over in Russia or Sweden! I bet the swedish are super stylish and will have fab clothes!!
My jacket is a dark brown aviator jacket and it looks great with jeans and boots. Here's what it looks like (kind of). And here are some celeb wearing their aviator jackets-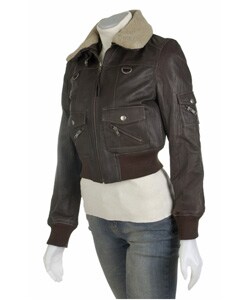 I saw this little Kimmidoll Mebae 'Fertility' doll in the newsagency today. It is a little japanesse doll (they had others like 'wellness, friendship etc'. It's so very cute but for $20.00 I couldn't really justify it so instead I took a pic of it on my new phone (very excited!) and set it as my wallpaper (took forever as I had to figure out how to work the camera!).
Here's what the doll says on the box-
My spirit is imaginative and creative.
You release the abundance of my spirit by nurturing the seeds of your imagination, for they are the kernels of creation.
May your imagination be your creative inspiration, so you may share with the world the infinite abundance of your mind.
I have no idea what it means, but it's quite lovely, hehe. I've decided it will bring me fertility anyway. Each time I look at it I will think -fertile thoughts (instead of my usual- 'why am I not pregnant, what is wrong with me')!
Finger's crossed for my good luck to begin, x
Post with 1 note
Orange roses often symbolize passion and excitement and are an expression of fervent romance.
M sent me some beautiful orange roses when I found I was not pregnant last month. He was so lovely and sweet. But the best part was when he came home that night and hugged me tightly.
 'Anxiety is the handmaiden of creativity.' T.S Eliot
In order to keep from going insane thinking abut all things baby, about TTC and about my body not doing what I want (i.e give me a baby- now!) then I got creative. My mom gave me an old ugly rocking horse to sell at our garage sale (to get extra monies for our Honeymoon!) but I decided to keep it and 'do it up'.
I forgot to take a proper before photo, but it started out a dark grey color which I didn't like,with no mane or tail, no ears, ugly old material. So I painted it white…. and started getting creative.
Me and S painting!—-
I painted the rocker part gray. And added a mane and a pretty tail braided and tied with a light blue ribbon.
I then put in new material- a light blue saddle rug and a pretty floral saddle with pink and blue flowers. Then I added ears and a halter around her nose. Plus I added hooves (no rocking horses have hooves! But I thought that they needed them, so I wrapped brown felt around her feet).
My finished horsey! This will go in the baby's room (when we have a baby- finger's crossed it happens soon). I'll work on these crafts now so that when we do get our baby everything can be made instead of bought as I have so much time on my hands.
"Happiness is: looking in a mirror and liking what you see."
Today each time I pass the mirror I stare back at my refelction. It's funny, I expect to see what I feel- a broken image. But I don't see a broken girl, I don't see the pain and turmoil that is inside me. I just see my usual self- with a little sadness in my eyes. I can't understand how I can look so normal on the outside, but inside I'm crying, inside I'm dying.
I have been charting my Body Basal Temperatures this month to track Ovulation. But my temperatures are not looking right. They are very low as I near the end of my cycle and there was hardly a temperature shift…it looks as if I haven't ovulated at all this cycle!
I have scrolled through pages and pages of charts on the website Fertility Friend, that women use to track their temperatures. I look through all the pregnancy charts to see if maybe I can find one exactly like mine that got pregnant. But the ones in the annovolutary section look closer to my chart. It seems I didn't Ov. And if I didn't Ov then I can't be pregnant.
The small amount of hope that I was able to cling onto thinking I might, maybe, hopefully, possibly be pregnant….is gone.
On to another cycle. And each failed cycle is stabbing me in the heart, right in the place where it broke when I misscarried, reopening the wound all over again. The mirror does not show my happiness…. nor does it show my sadness and heartbreak- but I know they're there.
 "Be who you are and say what you feel because those who mind don't matter and those who matter don't mind." - Dr. Seuss

Please don't mind me…. If you see me sitting in my car crying. If you see me eating an handful of chocloates because I find out I'm not pregnant yet again. If you see me avoid mothers and babies in the gorcery store. If you see me standing looking at pregnancy test deciding whether or not I should test four days early or not. If you see me patting my stomach lovingly.
For I am longing for a baby of my own. I am nearing the end of my cycle, but I just don't feel pregnant
Photo with 1 note
Our Elliot Beach House where we stayed with friends. I was Ovulating this weekend so M and I had fun doing the Baby Dance! M has suggested, if we get pregnant this month we'll name the baby Elliot! I actually quite like it :) maybe as a middle name. We also stayed on Mason St. So maybe we could use Mason as I really like that as a name….hehe, I wonder if our friends will make the connection- don't think they knew what we were doing in our bedroom! :)